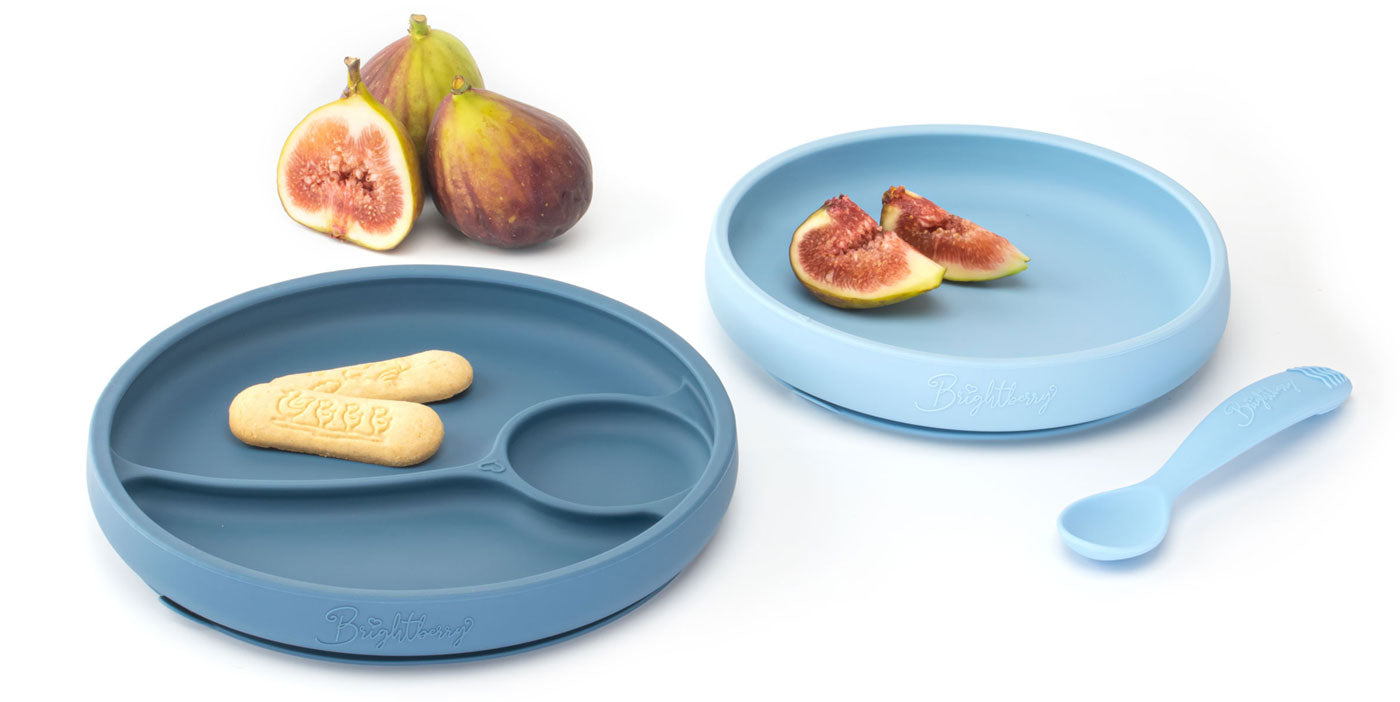 Wholesale Kids Tableware for Stockists & Distributors
Brightberry is a true innovator when it comes to wholesale kids' tableware. Our silicone utensils, plates, bowls, and accessories help parents make the most of feeding time. We do this by offering functional and colourful designs that encourage self-feeding and learning, promotes motor skill development, and lasts for years.
Brightberry wholesale tableware from Australia is easy to clean and safe to use, completely free of harmful materials, and designed in full compliance with international children's safety standards. If you're looking for the perfect products to add to your inventory, look no further – we have what you need.
By choosing Brightberry wholesale kids' tableware you choose to bring safe and practical range of dishes and utensils to your customers, including:
Our Australian-designed and award-winning products are ready for display, coming in bright and eco-friendly packaging, and with a proven design that resonates with both parents and children.
Brightberry wholesale
Partner With Us
We're excited to welcome you to our family-owned business as a Brightberry stockist or distributor. At Brightberry, we are passionate about designing high-quality tableware for children that simplifies life for families across Australia and the world.
As a proud member of Sedex, we are committed to responsible business practices, including responsible sourcing and ethical standards. We prioritise eco-friendly products, packaging, and processes wherever possible and are proud to offer recycling programs for our products.
we welcome
Stockists and Distributors
Becoming a Brightberry stockist or distributor means helping families succeed. We're eager to work with you to bring the gift of functional children's tableware into families' daily lives.
We know that practical, user-friendly kids' tableware can significantly enhance the lives of both parents and children.
★★★★★

Best silicone dinnerware on the market!

Brightberry Stockist

Australia
★★★★★

Brightberry has been an absolute hit since we started carrying it. It quickly became our bestseller, even with all the other brands we have on our shelves. Customers just can't seem to get enough of it, and we've had to restock it multiple times.

Brightberry Stockist

Australia
★★★★★

We absolutely love working with Brightberry! Their fully enclosed packaging ensures that the products are protected from dust, keeping them pristine and ready for our customers.

Brightberry Stockist

Australia
Wholesale with Brightberry
Are you a retailer interested in high-quality, innovative baby and young child feeding products? Brightberry has a wide range of products designed specifically to cater to families in need of something that works, rather than what is easiest to produce.
We provide environmentally sustainable and affordable tableware, and we love to share our vision with retailers interested in carrying our award-winning brand. Brightberry wholesale kids tableware allows you to stock our wide range of safe, sustainable, and functional silicone feeding accessories and help others discover these amazing products.
Recyclable and
Eco-Friendly
If you want to be part of the Brightberry family, fill out the registration form, and we will be in touch with you shortly. It's our goal to bring our amazing tableware products to more people, and you are an integral part of that process.
Our business model favours efficient communication, working together to meet the growing demand for eco-friendly, sustainable products in the wholesale kids' tableware market.
Fast Shipping &
Attractive Pricing
Finding products to stock in your shop doesn't have to be a chore. We offer fast, reliable shipping on all products, ensuring that you have the items you need, when you need them. If you have questions about our process and policies, we are here to help.
On top of all of that, we offer attractive pricing for our wholesale customers. Get the best kids' tableware, along with a huge list of benefits, when you choose to stock Brightberry kids' tableware.
Brightberry Benefits
We are committed to partnering with you to get the best and most durable kids' tableware for your customers. In addition to our unique and functional products, working with Brightberry comes with added perks!
We put smiles on the faces of our customers, parents, and children alike, but you'll also enjoy the rewards of working with the Brightberry brand for your wholesale kid's dining needs.
These additional benefits, along with our competitive pricing and outstanding products, help you get the Brightberry products you need when you need them. Plus, because of our quick, reliable shipping practices, you'll receive your items in a timely manner.
Whether you're just starting out your business or you've been selling baby products, gifts or houseware products for years, adding our kids' tableware to your product list is the right choice.
Brightberry Awards
Brilliantly Brightberry
Brightberry has received recognition for our unique designs: several of our products have received internationally recognised Australian Good Design Award & New York Product Design Gold Award. Our products are made of food grade silicone that is gentle on the sensitive skin and teething mouths of babies but durable enough to last for years of use. When you display our award-winning Brightberry products on your shelves, it's our attention to quality and affordable, practical products that makes us so successful. We've been featured on the Australia By Design TV show, a recognition that will appeal to your customer base.
Working with Brightberry means being part of a sustainable, high-quality brand that makes a real difference in the lives of thousands of families. Our range of products includes tableware that actually helps children learn important self-feeding skills and can last for years even with daily use. Some of our most popular products include:
the best
Suction Bowls
Our suction bowls differ from other baby bowls because of their size and unique design. These baby and kids' bowls are designed to be easy to clean, easy for kids to use, and to prevent spilling food on the floor.
Suction bowls are especially popular with parents for all of these reasons, making this one of the best options for wholesale. Whether packaged on their own, or in sets of baby bowls with two silicone baby spoons with integrated teethers, these bowls are the perfect addition to your stocked products.
Divided & non-divided
Suction Plates
Similar to our suction bowls, suction plates are designed for maximum comfort while eating and reliability. These plates are specifically designed to avoid spills and hold up to mealtime stresses.
Baby plates must be tough so they don't break if thrown or knocked off the table. However, they also need to have soft edges and a flexible design so that the suction plates retain their grip and their shape. Our easy scooping suction plates blend practicality with fun in a way that kids and parents appreciate.
baby & kids
Smoothie Cups
Smoothie cups capture all the fun of having a smoothie in a durable, adaptable cup that any child can reuse again and again. You can microwave the kids' smoothie cup or refrigerate it without problems, making it a great option for different drinks.
The smoothie cup with straw design makes it easy for children to use without making a mess and spilling their yummy smoothie. Our smoothie cup comes in multiple colours, appealing to every child and family. Plus, with the variety of colours, these cups fit perfectly into our divided suction plate, making it a great gifting option.
for teething babies
Spoons & Teethers
When smoothie cups aren't enough, parents might need a baby spoon to help their child reach a delicious treat. These spoons also help little ones learn how to feed themselves while gaining crucial motor skills and learning about their environment. Silicone baby spoons pair well with the plates, bowls, and kids' smoothie cups we offer to our wholesale partners, helping to make each meal an experience.
Plus, our baby spoons have an integrated teether in the handle that works to help relieve the aches and pains of sore gums. The baby spoon has a flexible but reinforced handle to encourage confidence, reduce accidents, and help promote the development of vital motor skills.
A Brighter Future
Brightberry is excited to work with stockists and distributors in Australia, New Zealand and beyond to help bring our exciting range of baby spoons, suction bowls, suction plates, and other silicone feeding accessories to more retailers and homes across the country and around the globe. Wholesale kids' tableware is where our passion for safe, functional children's eating utensils and dishes meets your passion for sharing fine products with your customers.
Make the most of your business partnerships when you join our wholesale customers. From individual dishes to complete feeding sets, we have the options that you need to satisfy your customers. Sign up to our wholesale options today to elevate your sales and bring a whole different type of tableware to your business. Don't hesitate to contact us with any questions you may have about our products or our wholesale options.

We look forward to working with you!