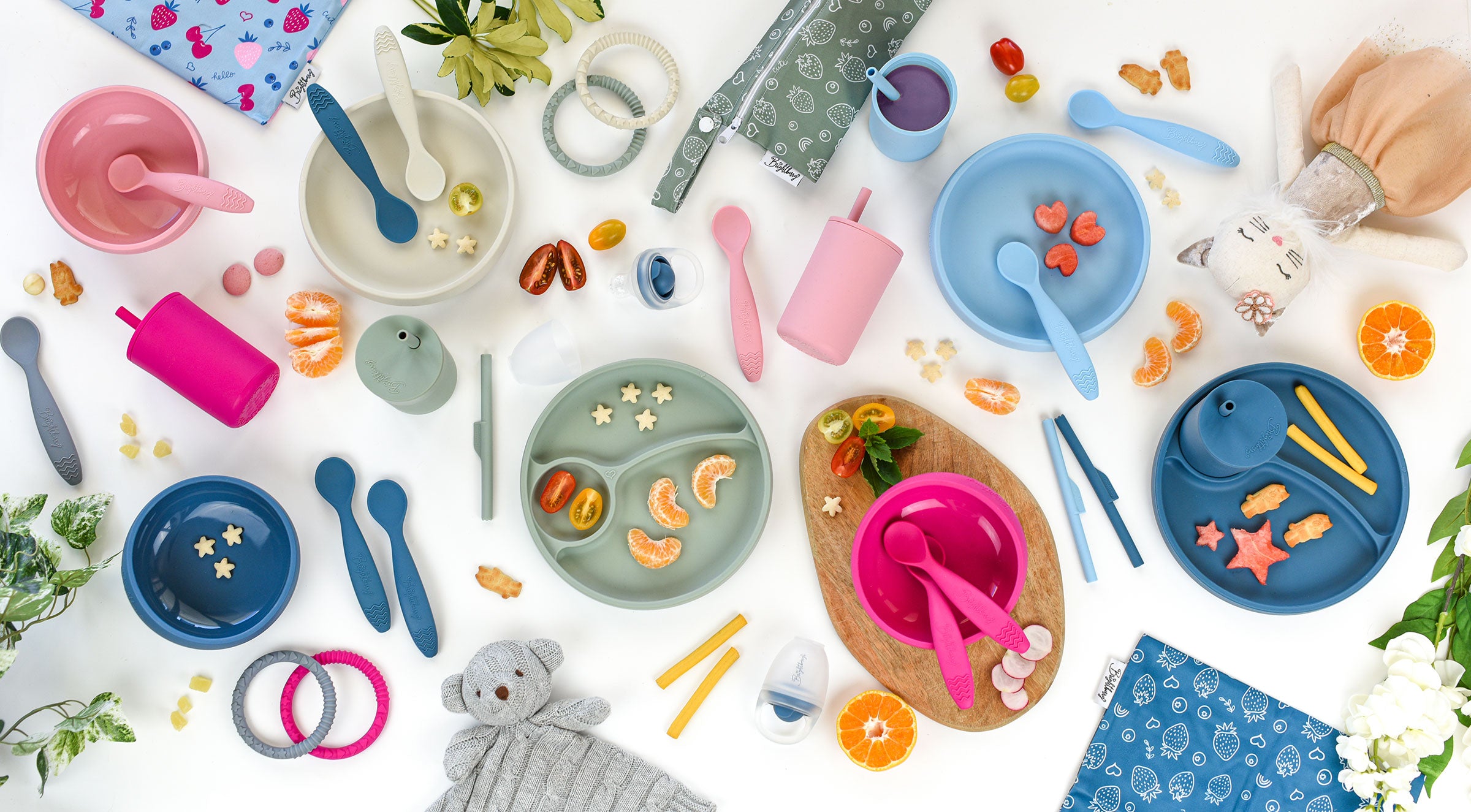 Innovatively designed to promote self-feeding and limit mess.
Brightberry: A Mum's Mealtime Mission
"As a mum, introducing solids to my little girl revealed a surprising truth. While many tableware options were undeniably cute, they didn't support self-feeding or consider a baby's developing motor skills.

As a mother and an industrial designer, I knew we could do more. Combining these two roles, Brightberry was born. We create tableware that isn't just stylish but also practical and functional.

Our mission is to make mealtime easy, enjoyable and supportive of your child's development."
Find Your Favourites: Shop by Collection
Brightberry Difference
Let customers speak for us
Discover the Brightberry Advantage
At Brightberry, we believe mealtimes should be a joy for parents and children.
Our ergonomically designed suction bowls, plates and spoons make it easier and less messy for kids to move to self-feeding.
We prioritise quality, safety, and innovation, making sure every Brightberry product is functional, free of toxins and safe.
Our innovative products are designed to make life easier and more enjoyable, allowing parents to focus on the moments that really matter. Make mealtime a breeze with Brightberry!
Kids & Baby Feeding
Encourage Self Feeding
Brightberry suction plates help kids feed themselves. The unique inward wall design lets them scoop up food easily, and they'll be able to eat independently in no time. You'll love how simple it is!
Shop Suction Plates
Award-Winning Designs
for new parents
GIFT BABY FEEDING SET
Want to make a lasting impression as a gift giver? Give the gift of stress-free mealtimes with our attractive and thoughtful bundle options! Brightberry's functional and practical tableware for kids will delight any parent, making mealtime an enjoyable experience for everyone.
SHOP BUNDLES
Child safe
Silicone Tableware
In addition to an eco-friendly and practical design, our products are made with safe food-grade silicone, free of BPA, PVC, phthalates, and latex.
To ensure the quality and safety, our products undergo independent testing by one of the world's premier safety-testing facilities, TÜV laboratories. This guarantees that every Brightberry product meets the high safety standards set by both Australian and international regulators.
Food Grade Silicone Suction Plates and Bowls – Practical, Functional and Durable
Let's face it: feeding your children can be a messy affair. Sometimes, it seems as likely that your lovingly prepared meal is going to end up on the floor, along with the tableware, as in your bub's mouth. However, there is another way! You need a bowl, plate and spoon set that can withstand your baby's best attempts to 'redecorate' the room if you want to avoid this sticky issue.
This is where our collection of functional silicone bowls and plates truly shine, and will make mealtime a breeze. Not even the fussiest of little eaters will be able to resist our thoughtfully designed products. Our colourful range of tableware for kids has been specially created to make feeding easier for parents and tots alike. From suction plates to bowls, complete sets and more, we have everything you need to make messy meal times a thing of the past.
Designed by mum for mums, our selection is perfect for keeping your little munchkins happy and fully engaged while feeding. Available in a range of adorable and practical designs, our products are the ideal addition to family dinner time and your kitchen table.
Here at Brightberry, we have made it our mission to help parents make feeding their baby as easy as possible. We believe that providing environmentally sustainable products doesn't need to come at the expense of practicality. Our tableware provides the perfect solution to making feeding time as stress-free as possible. Brightberry products are easy to clean, while preventing messes through their stable grip to almost any surface. Our innovative designs also help your baby to practise their self-feeding.
Introducing solids into your little one's diet can feel like a tricky process, especially when teething has become an issue. However, with the right tools, this needn't be the case. At this time in their young life, they are navigating all kinds of new textures, tastes, sights and sounds. With our products, your little one can go on a delightful journey, and discover all of their favourite foods along the way!